Kingdom continues digital journey with new customer engagement initiative
29 Jun 2023, posted in News
Engage Solutions Group has announced that specialist services provider Kingdom Services Group is going live with its customer engagement platform.
Kingdom is one of the largest privately run companies in the UK, with group businesses that include Security, Cleaning, Recruitment, Healthcare, Local Authority Support and Training.
In 2022, it partnered with Engage on its colleague engagement strategy, connecting over 7000 employees via a custom mobile and desktop app. Now it is keen to bring the same level of enablement, empowerment and experience to its customers.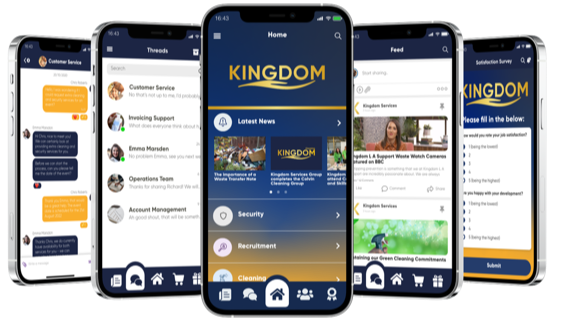 This new project is part of Kingdom's on-going commitment to digital transformation. The customer apps will be tailored to the needs of each group business but common features will include a news feed, messaging and alerts, key contacts, ESG policies, contract and service documentation.
Self-service tools, portals and dashboards, affording customers more control and convenience and giving them better visibility of performance and resources, will also be incorporated in certain businesses.
As Rob Barton, Kingdom's Group Shared Services Director explains, it's a real win-win: "The customer app is about making things easier, faster, smarter, and better for our customers when it comes to relationship management and our service delivery. And, in turn, those outcomes are a positive reinforcement of Kingdom's capabilities and qualities, which is invaluable for contract retention and successful cross-selling.
"Working with Engage is letting us embrace the best and newest technology. We want our customers, like our colleagues, to have the optimal experience. It's just logical to now be pivoting from the internal to the external audience and extend our use of what is a proven engagement platform. The functionality we're offering via the apps will take customer communication, support, convenience, efficiency and sustainability to a new level."
Share
Back