A new year, the same catalysts for engagement tech?
22 Jan 2021, posted in Blogs
The recent lockdown announcement won't have triggered the panicked response from business as it did in March – thought it probably prompted a few sighs of frustration as the slow return to normality is once again put on hold.
It has also prompted this blog because it seemed like as good a time as any to review the three main buying approaches, or the catalysts for engagement technology, which have been thrown into such sharp relief during 2020.
Over the past nine months, we've seen waves of all three rationales, largely mirroring the rhythm of the pandemic itself. Going forward, we expect to see the same three triggers at work, though the project tide is perhaps less easy to predict as we head towards what – we hope – will be a more normal world later this year.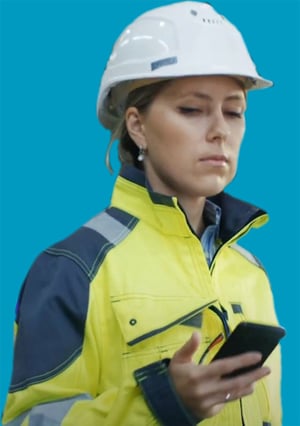 Reason #1 – HR teams need an effective internal communications toolset that can be rapidly deployed at scale, and independent of email.
The original lockdown made many HR teams realise how deficient their systems were when it came to real-time, tailored, must-be-read corporate communications, and agile, secure group messaging. Office-based organisations forced to mobilise on an unprecedented scale quickly discovered just how lacking email was and how little it cut through the general comms noise; and distributed organisations realised that their heavily analogue approach was never going to properly serve a workforce under these new pressures.
In a sense, the lockdown simply revealed certain truths very brutally – that they'd been insufficient investment in, or provision for, really smart, nimble and engaging internal communications tools. Also caught up in this was the ageing intranet – again, many were found wanting when the need was greatest – not easily accessible or navigable and lacking timely, relevant content.
The need for a quick fix in those earliest weeks drove a veritable tsunami of enquiries and by the end of the summer we were supporting thousands of new individual users via our colleague app. With the app came the personal feed, messaging capability and intranet-style resources that provided critical updates, control and a sense of belonging.
Today, the 'point solution' approach to engagement is still valid; it's still okay to just want to put in place a really slick toolset to support staff and to be able to do so in a matter of days and at a highly attractive price point.
Reason #2 – The C suite wants to take a more strategic approach to colleague engagement, championing experience, wellness, culture and performance
The pandemic highlighted the need for fast-paced tactical comms, as well as the more fundamental requirement to have everyone at the edge technically connected to the centre and back out again.
But there was and always will be life beyond the emergency response. All of us may have been working in a different way but we've still been part of a collective – how do we feel as part of that group? How good do I feel 'at work'? Am I supported? Do I have a voice? Am I valued? Is this a good place to be, do I like my colleagues, do I enjoy the day-to-day, do I actually care?
Gartner has already identified employee experience (EX) as 'one to watch' in terms of growth trends. It has stated that greater colleague engagement is a direct outcome of enhanced employee experience, so cue a huge effort to refocus on those things that make for better EX. And therein lies the challenge because it is so multi-faceted and nuanced, ranging from practical self-service options that just add a little extra convenience to, and subtract a few frustrations from, the working day; to broad ambitious programs to deliver systemic improvements and cultural change; to delivering more pastoral care in the form of mental health provision and personal development; to encouraging more rewarding and bond-building CSR initiatives. The list goes on.
The inevitably 'patchwork' nature of all this requires technology that can stitch it all together, a universal app that digital enables EX to drive, in turn, more enduring engagement. And that is one of ESG's unique strengths in that, for all our appeal as a point solution to those HR teams in need above, we are also a supremely good fit for the experience push.
There's a rich mix of relevant functionality available out of the box, but more importantly, a proven integration capability in terms of looping other line of business or HR systems into a single unified solution, sat behind one front door. Too often plans for staff enrichment unravel because of a simple lack of cohesion. Or the mistaken belief that you need to reinvent the wheel, when you already have invested in all the spokes – you just need the hub.
As the first pandemic panic receded, we saw more of this thinking to the fore. Many we spoke to said that the on-going dislocation had shone a harsh lens on where provision has been lacking – so not dissimilar to the reactionary 'need comms' thinking above, just a more expansive, longer-term version of it.
Reason #3 – The CEO and C suite colleagues have a far more holistic approach to engagement, one that runs through the organisation embracing colleagues, customers and indeed any stakeholder or connection.
Whether it was because colleague engagement was suddenly brought to the fore or there was an unsettling realisation within organisations that they had no digital equivalence of their 'in real life' experience when it came to prospects and customers, the result was the same: the pandemic has had a profound effect on the notion of end-to-end engagement as a core business discipline.
There's a cool logic to it. At its most simplistic: Engaged employees will provide a better service to engaged customers (formerly engaged prospects ripe for conversion) who will stay loyal, buy more and recommend you to their friends, bringing in more business to make you more successful so you can put more back into the workforce that got you there. Take your eye off your employees and that service level could drop. Stop caring about your customers – throughout the lifetime, not just at purchase time – and they might be tempted away.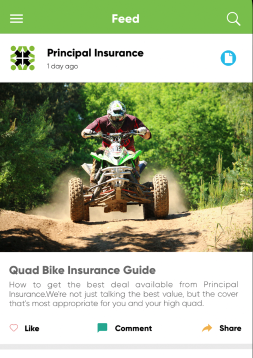 It's a virtuous circle and one we are familiar with powering because again, uniquely, ESG can pivot from the internal to the external audience. We have colleague apps and we have customer apps, we even have an app for communities of interest; they have different front-ends obviously but with the same fundamental core technology at the back-end. Which is great for our clients as it hugely simplifies implementations, management, security, and support, with plenty of flexibility in terms of integrations and reams of value as regards performance metrics and analytics.
Engagement in the round is even more textured and challenging than colleague engagement – but we make that round – that virtuous circle – totally possible. And not just through our enabling tech but also our IP, our engagement expertise, that is helping guide organisations on their engagement journey. As more people got to 'steady state', so we saw more 360 projects take root. Some have started slow and steady, others have gone big bang, others again are plotting a course somewhere in between. Some start with customer engagement, some with a softer community engagement tack; others look to their workforce first before pushing on to address customer relationships.
And that's the difference when you put ESG against all other employee or customer app vendors: it's not just that we're the only one who can take you all the way; it's also that we're the only one giving you the choice of how you get there.
Back