Social working
28 Jul 2022, posted in Blogs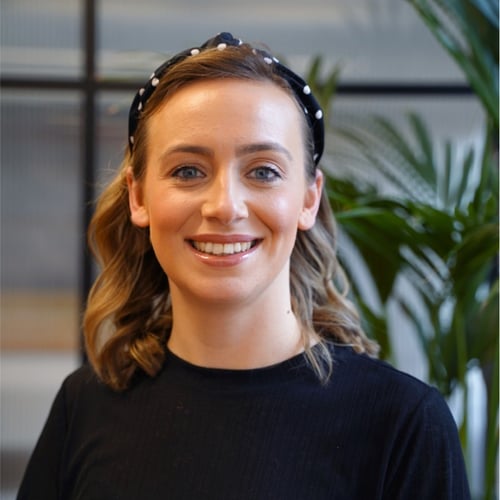 Customer Success Director Annie Dowd checks in on how Engage continues to leverage the power of social media through baking new features into its suite of mobile-first engagement apps.
Our employee engagement, employee experience and internal communications strategy is powered by our liberal use of social media across the business.  It would be no surprise that my colleagues have continued to embrace the use of social features in our very own version of Engage over the past year.  We have further enhanced the existing social feature set, adapting the best features from across various social media platforms into Engage's mobile-first employee app.   These features – social posting, a messaging with reactions, the ability to like, comment with @ mentions and share content – are being used to enhance engagement with the audiences that matter most to our customers. There have also been excellent enhancements to thank you cards, now developed into a full peer-to-peer recognition function.  And to top this off, our users can now customise their profile, including personal imagery and additional information. As you have come to expect from Engage, these features are configurable during set up or by group, making us the perfect tool to connect your business.
Which is all the excuse we need to tell you lots more about our whole social offering, and how and why you should be using the various tools available.
Why does your workplace need a social media platform?
Social platforms such as Facebook, Twitter, Instagram, Snapchat, LinkedIn and how could we forget, new kids on the block TikTok are widely used in our personal lives.  In most cases we will use one or more of these platforms each day and Engage aims to tap into that all too familiar user behaviour and utilise it in the workplace: you curate your feed, absorb content, interact with and/or create it, all helping to create a community feel and shared connection – but with all the safeguards and privacy of a proper corporate app.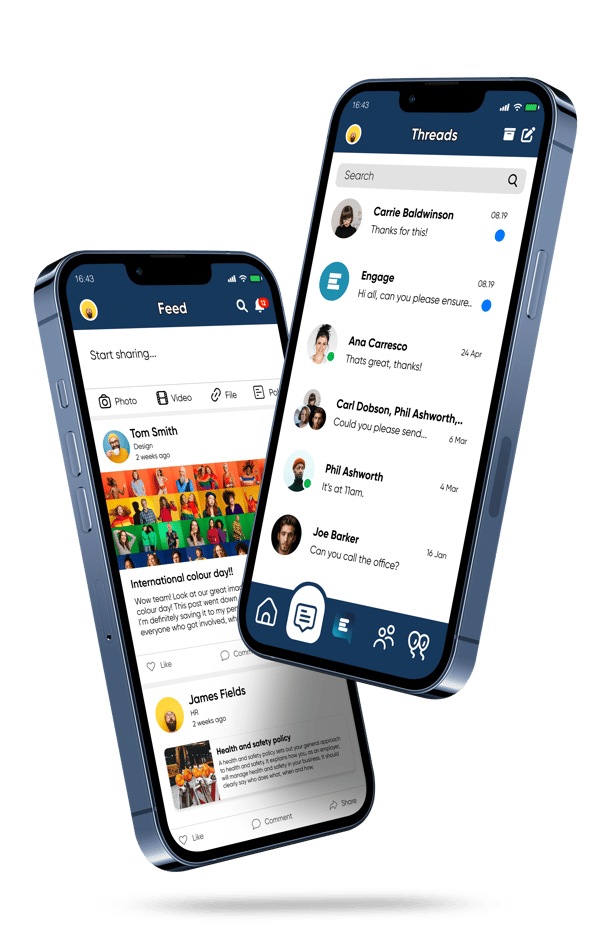 Fact: we spend 4.8 hours a day on our mobiles!
What is the benefit of enabling social features?
Quite simply, utilising social features through the platform provides you with a safe space to deliver internal communications, HR initiatives and drive digital adoption – creating an internal community where a thriving employee culture will develop.
Functional overview
Social posting – Giving all, or a specific group of individuals, the ability to create content and share with their followers at the touch of a button. Bringing external social communities into a fit-for-all internal platform, embraced for the benefit of both employee and company.
Messaging – Whether you create community chats, set up group discussions on the fly, or 1-2-1 message, users are given a secure and GDPR compliant platform to communicate – and the GDPR-breaching WhatsApp groups can be removed.
Reactions – We like to stay ahead of the curve and released messaging reactions feature earlier in the year, months ahead of WhatsApp Our users are able to respond to a message quickly with a simple reaction. Top tip – use this feature as an in-message poll.
Comments – The ability for users to express thoughts and opinions against a post or piece of content where previously feedback was limited or non-existent. Benefitting the end user also, making them feel heard and empowered.
Likes– This provides a valuable insight into how your content or posts are received. Views vs interaction is a useful analytical metric. Over the last year we have spotted an obvious trend; content likes are significantly higher when a person or multiple people are featured, when compared to generic, non-people specific business updates.
@ mention – Tagging a fellow user in a post, comment or message, draws their attention to a piece of content or post.  Recognising someone publicly typically had a small read rate or audience when sent out via email or added to noticeboards, now everyone can see this!
Personalised profiles – The ability to bring your personality into Engage by uploading a profile and background image.  A recent release brought the ability to add additional attributes to colleague profiles, which can be personally edited.  This can be done globally or on an individual basis.
Peer-to-peer recognition – Users can recognise each other, in the form of standardised messages.  We are seeing these messages taking the form of value-based recognition or generic celebrations.  Additionally, these messages can be shared with multiple colleagues, their managers, in a public feed of celebrations and shared to the main feed, via social posting if enabled for the user sharing the recognition.
How best to deploy social posting?
Social posting can be deployed using several strategies.  You could decide to enable it for all colleagues to provide that social feel, tapping into that scrolling mentality we all have these days.  Or maybe, you'd prefer to give access to management first, providing them with the ability to push out operational updates 24/7.
Perhaps launching with the Exec would give the greatest level of success.  It is a common theme amongst clients that there is a 'them and us' feel separating senior staff from other employees; or maybe the staff on the ground haven't seen or heard from their Exec and don't understand the business values as a result of this.  For me, enabling for the Exec has benefits across the board (excuse the pun): they have all the information, and the authority to send out business updates, in real time.
How have we been using social posting?
The Engage team has had social posting enabled for all.  We've continued to have fun over the last year, from posting our daily exercise regimes, motivational quotes to the rest of the team to praising good work and generally creating that community feel; and, now that we're often back in the office, we've been sharing photos from our all-hands socials too.
Considerations when enabling social posting.
Let's address the elephant in the room!  There may be a nervousness around enabling any or all social features. However, I don't need to remind you that knowledge is power and gaining feedback from your employees, be that positive or negative, will prompt conversation, action and improvement.
For those employees who may cross the line, the platform has measures to remove those posts, comments or messages.  And as a reminder, all users of Engage should be governed by their terms of employment with you as their employer;  full audit trails are there as supporting evidence should action need to be taken.
Summing up
Social posting is a tool that supports the 'employee first' mindset that gives them a platform to share their voice and for others to follow and consume. A tool that will not only help shape and foster employee communities and culture – but a fantastic adoption tool to keep people returning and being exposed to the wider company communications, initiatives, and recognition schemes that so often do not get the exposure they deserve.
Engage is all about continuous improvement.  It is our policy to collect features and feedback requests across the base, through our portal.  This is a place for our clients to contribute their innovative ideas and input enhancements to existing features.  We listen to this feedback and have responded to the many requests, developed and enhanced these features.  Uploading media to comments will be coming very soon, so watch this space!
If you have any further questions on our social features, enabling them or to improve how you are currently using them, please do not hesitate to reach out to the Engage Success Team.  It is our job to ensure the platform is working optimally for everyone in your organisation.
Back