Midland Metro gets on board with Engage
06 Oct 2021, posted in Case Studies
Engage Solutions Group has announced further success in the transport sector with Midland Metro rolling out its Engage-powered internal engagement app this autumn.
Midland Metro, operators of the West Midlands Metro tram network, is already one of the most progressive public transport companies when it comes to customer-enabling technology, and now it is bringing investment and innovation to supports its 250-strong employee base too.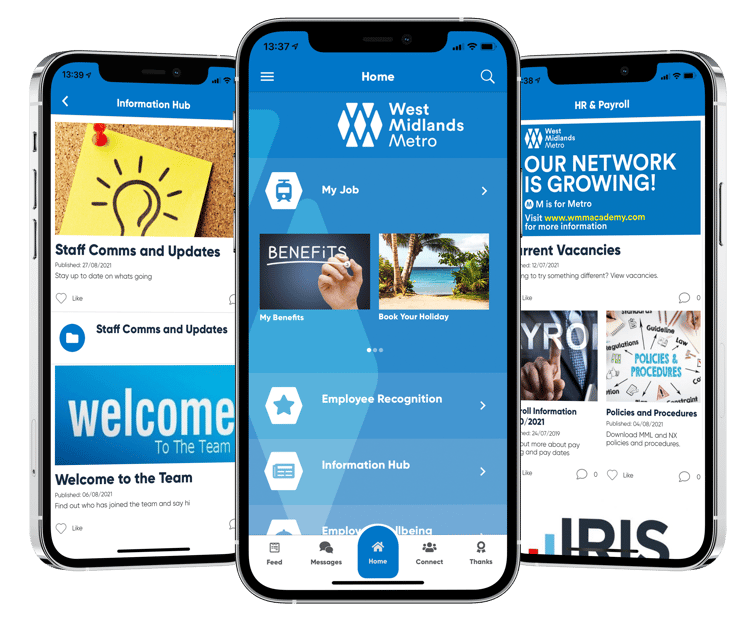 Branded Mya, the employee app will bring together key resources and tools behind one single sign-on front door: policies and contacts, training and requests, surveys and suggestions, employee nominations, voting and awards, and thank you cards. At the heart of things will sit a range of interactive communication tools: the Facebook-style feed, keeping everyone fully in the loop with news, operational updates and video content; one-to-one and group secure messaging; and the familiar social networking options of commenting, liking and sharing posts.
Commenting on the project Sophie Allison, Midland Metro's Commercial Director, says: "We've always looked at technology through the lens of improvement – how do we makes things better, easier, faster, more convenient. Our customers have felt the benefit of that as have our colleagues, but this is very much taking things to the next level for that internal audience.
"With Engage, we've been able to rapidly deploy our own branded, customisable app, load it up with every communication, operational and engagement essential and give everyone a really slick, easy-to-use, very modern tool to support them day-to-day.
"Being there for individuals but also bringing them together, strengthening our culture and sharing our values is vital for any organisation but especially so when you are delivering a critical public service with so many customer-facing and frontline workers. We expect them to give their best, so we need to give them the best tools for the job."
Share
Back