Insurance giant looks to Engage to solve group challenge
11 Aug 2021, posted in Case Studies
Engage Solutions Group (ESG) has announced its biggest deal of 2021 to date with its employee app set to transform employee engagement and communications at one of the world's largest insurance intermediaries.
One of the world's top 20 brokers, The Ardonagh Group, which owns over thirty leading insurance brands, is rolling the app out to over 7000 staff worldwide. The Ardonagh app will serve as a universal platform that will support groupwide communications and resource sharing, as well as tailored channels and content for each individual company – a capability that is unique to ESG.
Every employee will access an instance of the app that is customised for their own brand. Here they will be able to consume both group and company-specific content and enjoy group-wide connections and collaboration all in the one place.
Leanne Hull, Project Lead for The Ardongah Group, explains that it was this ability to support multiple brands through a single unifying platform that was crucial: "Up to now we've been largely reliant on cascading group communications down to local comms teams via email or getting information up on various company intranets. Many of the brands we have acquired continue to operate independently and often don't require IT integrations hence why these efforts are more onerous and time-consuming than they should be – and still with no guarantees that everyone gets what they need.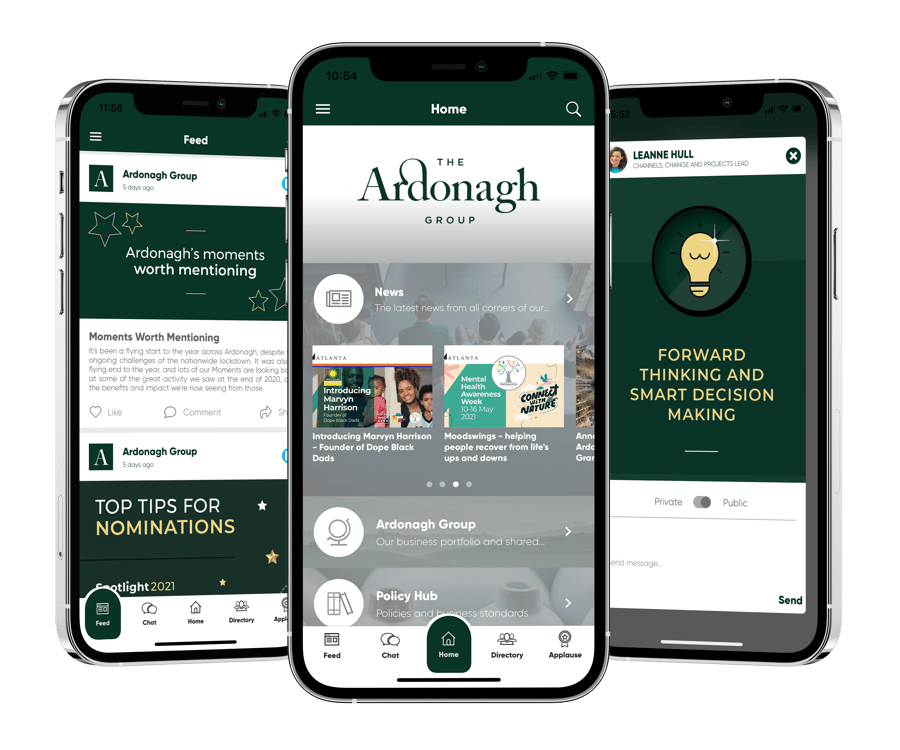 "The challenge around rolling out a single platform is that it risked putting the group ahead of the individual businesses. But there is so much employee loyalty and advocacy for their own brands that we wanted to respect that – so the question became, how can we facilitate efficient group-wide communications and intranet-style resources while also championing each of our divisions and individual companies? With Engage, we can deploy as many fully branded instances as we need – with users automatically accessing 'their' app – but they all live within the same ecosystem. In the one tool, we now have the means to share group-wide news and resources; to tailor content for particular brands or employee roles or locations; and to let the individual companies themselves harness the tools available to drive their own 'local' employee engagement efforts.
"It's our ambition to have 100% of Ardonagh's workforce accessing the app and seeing it as their 'go-to' place for everything relevant to their employee journey and user experience. There's massive scope here but it's only really possible because we are able to base it on a common application which can be fine-tuned for a multiplicity of audiences. All of the technical complexity at the back-end is hidden from us, which leaves us free to deliver maximum value at the front-end.
"We are hugely excited about the potential. We've been looking to get to this point for the last couple of years and now we've found this flexible, feature rich solution – and a skilled, enthusiastic team behind it – where we can support everyone in the business the way we want to."
Employee engagement has never looked this good
Watch video >>
Share
Back